A 12-year-old Colorado boy was slapped with a five-day suspension after his teacher spotted his toy gun during an online art class.
The boy allegedly flashed the "Zombie Slayer" gun across the computer screen, which let to local authorities paying a house visit for a welfare check....without even notifying the parents.
His father, Curtis Elliot , said, "It was really frightening and upsetting for me as a parent, especially as the parent of an African-American young man, especially given what's going on in our country right now."
He added that his son has attention deficit hyperactivity disorder (ADHD) in addition to learning disabilities, and that he was not even aware that the gun was able to be seen on the screen during his distance learning.
"He was in tears when the cops came. He was just in tears. He was scared. We all were scared. I literally was scared for his life," Elliott added, "The virtual setting is not the same as the school setting. He did not take the toy gun to school. He's in the comfort of his own home. It's a toy."
The toy gun was neon green and black with the words, "Zombie Hunter."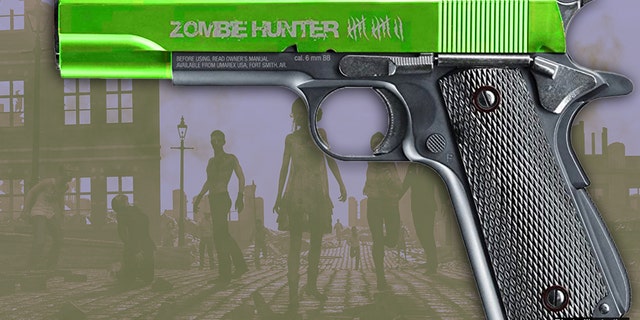 Fox News reports:
Reports said the school district, the Widefield District #3, refused to give the Elliott family the recording of the online class, but authorities showed the family a video of the class from a recording from a police body camera.
The boy's mother said the punishment didn't fit the crime.
"For them to go as extreme as suspending him for five days, sending the police out, having the police threaten to press charges against him because they want to compare the virtual environment to the actual in-school environment is insane," said Dani Elliott.
She said she wishes the teacher had reasoned with the parents before condemning the boy.
"If her main concern was his safety, a two-minute phone call to me or my husband could easily have alleviated this whole situation to where I told them it was fake," said Dani Elliott.
The school won't apologize for its discipline.
The Grand Mountain school said in a statement: "We follow all school board policies whether we are in-person learning or distance learning. We take the safety of all our students and staff very seriously. Safety is always our number one priority."
The parents are now seeking to enroll their son in a private school.
"I definitely feel they crossed the line," the mother added. "They were extreme with their punishment, especially sending the police out and traumatizing my son and my family."
Trending News
Woman Gets Shot with BB Gun After Stealing Trump Sign From Yard
A North Carolina woman was shot with a BB gun after she stole a Trump sign from the wrong yard, according to a report from ABC11.
The woman, Peggy Fox, thought she was taking a sign that was part of a political prank from her brother's yard.
Chris Stapleton Sells Out: 'I Support Black Lives Matter' - America 'A Myth'
What a wuss. Country star Chris Stapleton sold out and endorsed Black Lives Matter. He also called America a "myth."
While on "CBS This Morning" the five-time Grammy Award winner said, "You know, I thought we were living in a different country. And that's 100% real. I feel like the country that I thought that we were living in was a myth."
BOOM! New Hampshire Elections Inspector Arrested for Voter Fraud 'I Voted Twice' (VIDEO)
Democrats are supposedly aren't worried that there would be any concern of voter fraud in November.
What are they basing this off of because all I keep seeing is more evidence all the time that there will definitely be fraud.
President Trump Expertly Takes Radical Portland's District Attorney Out Of The Equation Dealing a Massive Blow to Rioters
President Trump is making some killer political moves right now. One of the best came last week.
Rioting is continuing to take place in Portland and the prosecuting attorneys keep dropping charges against the people who are committing crimes and being arrested.
Las Vegas Bookies Have Predicted the Odds of the Election, Here's How They're Taking Bets
Bookies in Las Vegas are very good at what they do when it comes to making the odds for bets that they're willing to give action on.
If you're not one who is familiar with the gambling world, it's more than just sports games that people bet on. People can bet on almost anything.
Neurosurgeon Warns There Could Be Serious Risks for Healthy People Wearing Face Masks
Personally, I'm someone who makes decisions based on facts. Hopefully, I'm not the only one who is rational enough to think like that.
I understand that some people want to wear masks because some places are requiring it.