Bill Gates is leading the United States toward globalism with the help of the W.H.O. Political cartoon by A.F. Branco ©2020.
Donations/Tips accepted and appreciated –  $1.00 – $25.00 – $50.00 – $100 –  it all helps to fund this website and keep the cartoons coming. – THANK YOU!
A.F. Branco has taken his two greatest passions, (art and politics) and translated them into the cartoons that have been popular all over the country, in various news outlets including "Fox News", MSNBC, CBS, ABC and "The Washington Post." He has been recognized by such personalities as Dinesh D'Souza, James Woods, Sarah Palin, Larry Elder, Lars Larson, Rush Limbaugh, and has had his toons tweeted by President Trump.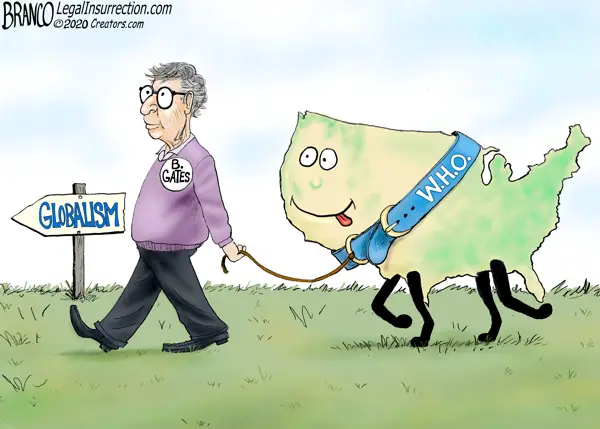 Trending Political News
New COVID-19 Stats From CDC Reveals STUNNING Fact
New numbers were recently released from the CDC showing the latest statistics regarding the coronavirus between the dates of February 1, 2020, and April 22, 2020.
I'll be quite honest. It's getting tougher and tougher to determine what is accurate anymore and more difficult to believe the "experts" on the matter.
NYC Mayor INSTANTLY Regrets Opening Snitch Hotline After Backfiring on Him
Those in roles of leadership throughout the country have been abusing their authority in so many ways during this coronavirus outbreak and lockdown. This doesn't apply to everyone, but it does apply to many governors, mayors, and police officers.
New York City Mayor Bill de Blasio is one of those who are at the very top of this list of tyrants, especially since he has set up a snitch line.
Maxine Waters Pays the Price for Her Relentless Attacks Against President Donald Trump
Maxine Waters has been one of the vilest and outspoken opponents of President Trump.
However it seems like she can dish it, but she can't take it, because after getting some insults thrown her way, she's begging people to stop.
New Doc Proves House Democrat Secretly Hid Dozens of Transcripts in Obama's Spygate Scandal
Journalist John Solomon from Just The News has really been one of America's greatest investigative journalists over the recent years. He has managed to uncover some news and gain access to resources that others can't seem to get their hands on.
One such document that Solomon was able to obtain was a letter from last year from House Intelligence Committee Chairman Adam Schiff.