New York City is seeing vandalization in massive waves as anti-police protestors attack the train stations and subways.
Early on Friday, the protestors vandalized the Upper West Side station's walls in addition to pouring Gorilla Glue on the subway turnstiles in Brooklyn! This is all part of a protest against a higher police presence in the city subways.
NY Daily News reports:
The turnstiles at the Borough Hall No. 2 station in Brooklyn were also glued shut to prevent people from swiping MetroCards, according to sources.
Police had dispatched around 1,400 cops to patrol stations in Brooklyn, the Bronx and Manhattan. No arrests had been made as of late Friday morning.
More protesters were expected to converge at Grand Central Terminal at 5 p.m., organizers said.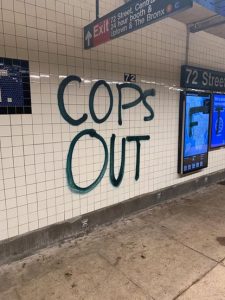 Anti-police graffiti in 72 St. subway station. (Obtained by the Daily News)
"The streets are ours. The trains our ours. The walls are ours. This moment is ours," the protest group known as "Decolonize This Place" tweeted. "How will you and your crew build and f--- s--- up for #FTP3 on #J31 (THIS FRIDAY)? Issa mothaf-----' movement."
The streets are ours. The trains our ours. The walls are ours. This moment is ours. How will you and your crew build and fuck shit up for #FTP3 on #J31 (THIS FRIDAY)? Issa mothafuckin' movement. pic.twitter.com/CoEjRSvmDX

— DecolonizeThisPlace (@decolonize_this) January 28, 2020
Really? If they "own" the streets and the trains and the walls then why wouldn't they want to keep them nice and functional? This is nothing more than thuggish, hood rat activity.
In a video posted with the tweet, three masked men with digitized voices encourage protesters to "line up with friends and family and think of ways you can move in affinity and f--- s--- up on J31 all day long."
"The mood for J31 is simple," one man says. "F-- your S2.75, no cops in the MTA, free transit, no harassment period and full accessibility."
People were also given copies of an "operations manual," recommending that protesters wear clothes that don't need belts, and not to bring weapons or drugs to the protests.
Protester Sarah Autz, 25, was caught writing "Pigs" across one of the police patrol vehicles with a marker. She was arrested for graffiti and criminal mischief charges.
More Trending Stories
Schumer Gets Embarrassed When This Happened to 'Personal Guest' He Invited to Impeachment Trial
Senate Minority Leader Chuck Schumer thought he would try to be slick and invite a controversial person as his guest to the impeachment trial.
However, that all backfired when his guest was removed from the public viewing area since he was wearing an electronic ankle bracelet. That guest was none other than Lev Parnas. Continue reading…
Elitist Local Governments Seek To BAN Dollar Stores Across the Country
Where I live, there are exactly three Dollar Generals within five minutes from my house. There are plenty more as I would continue to drive in any direction.
Unless you live out in the country, I would bet that you have some sort of dollar store near your house as well whether it be a Dollar General, Dollar Tree, or even a Family Dollar. Continue reading...
Holocaust Survivor Doesn't Fall for Joy Behar's Border Narrative
The left want the American public to believe that the detention centers that we have at the U.S./Mexico border are the same thing as the concentration camps that Jews were in back in the 1940s. Continue reading…
Trump's Legal Team Pits Democrats' Own Word Against Them
Now that the impeachment trial has ended opening arguments and has been proceeding with questions from the Senators, which is also wrapping up, we may be nearing the end of it all.
But I think we need to take a minute to really appreciate the brilliance of how the President's legal team ended their arguments. Continue reading...