Joe Biden did not waste any time screwing things up. Since he was inaugurated at noon on Wednesday, he has already signed three executive orders and immediately removed the "1776 Commission" from the White House website.
Biden talked about reversing key policies that President Donald Trump put into place, including rejoining the Paris Climate Accord and reversing the 1776 Commission.
Breitbart reports:
The 1776 Commission had released its final report on Monday, fulfilling Trump's request to reaffirm the importance of America's founding principles in the daily life and education of its citizens.
Now, a search for "1776 report" and "1776 commission" on the White House website comes up blank, giving an error note, which states, "It seems we can't find what you're looking for."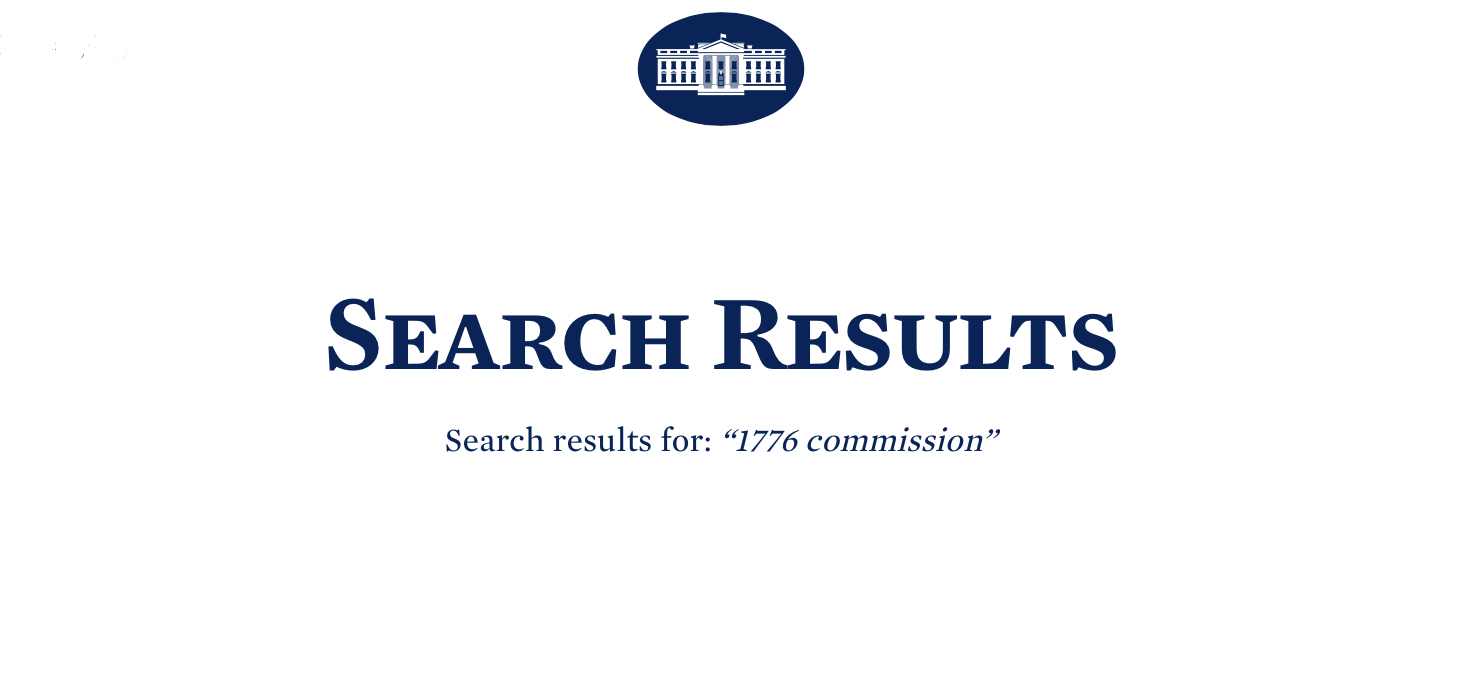 An archive of the White House website from Monday shows the importance former President Trump placed in restoring the "understanding of the greatness of the American founding."
"The 1776 Report calls for a return to the unifying ideals stated in the Declaration of Independence," Chairman Larry P. Arnn, Vice Chair Carol Swain, and Executive Director Mathew Spaulding said in a statement on Wednesday.
"It quotes the greatest Americans, black and white, men and women, in devotion to these ideals," they added. "The Commission may be abolished, but these principles and our history cannot be. We will all continue to work together to teach and to defend them."
Trending Political News
Report: McConnell Threatens Trump with Impeachment - 'If You Pardon Julian Assange....'
As President Donald Trump is expected to announce more than 100 pardons before midnight on Tuesday, one of the people expected to be pardoned is Julian Assange. Truthfully, I am rooting for him to be pardoned as well.
However, there are now reports that Senate Majority Leader Mitch McConnell is threatening the POTUS with impeachment if he decides to pardon Assange.
Hillary Clinton: 'I'd Love to See Trump's Phone Records....'
Hillary Clinton, the mother of scandal with a mile long body trail, is now questioning President Donald Trump's integrity. During her podcast You and Me Both, she said that she would "love" to see Trump's phone records from January 6 to see "whether he was talking to Putin the day that the insurgents invaded our Capitol."
Perhaps she should check for his phone records in the same place her emails are...
Billy Eichner Meltdown: 'F**k Trump, F**k Every Single Trump Voter'
Actor and comedian Billy Eichner had an absolute meltdown on Twitter on Tuesday. He not only attacked President Donald Trump and his family, but also the 74 million people who vote for Trump. He added, "the rest of us need to make sure this never happens again."
"Fuck Trump, fuck his whole family, fuck...
Nancy Pelosi on Capitol Riot: 'We Can't Move on...We're 'Traumatized'
Speaker of the House Nancy Pelosi appeared on Hillary Clinton's podcast "You and Me Both," and talked about the January 6 protest at Capitol Hill. She declared that lawmakers "can't move on" because members were "traumatized" by what happened.
Kind of like citizens and business owners were traumatized as BLM burned down businesses across the country for seven long months, Nancy? That's none of my business though.
Schumer: 'Trump Shouldn't Be Eligible to Run for Office Again'
On Tuesday, Senate Minority Leader Chuck Schumer stated that President Donald Trump should "not be eligible to run for office ever again."
What exactly is Schumer and the rest of his slimy colleagues afraid of? Being exposed?
"After what he has done, the consequences of which we were all witness to, Donald Trump should not be eligible to run for office ever again," Schumer said.
Sen. Joni Ernst: Dems 'Want to Further Divide Nation' with Impeachment
On Tuesday, Senator Joni Ernst blasted Democrats for only wanting to "further divide the nation" by impeaching President Donald Trump.
She said that she does not believe it is constitutional for Democrats to try to impeach Trump after he leaves office, and asked, "My overall question is: Why are we doing this when the president is out of office tomorrow?"
Democrat Steve Cohen Suggests White National Guardsmen Pose a Threat to Joe Biden's Life
Rep. Steve Cohen (D-TN) suggested during an interview on Monday morning that in vetting the National Guard for potential threats against President-elect Joe Biden, officials should first look for supporters of President Donald Trump within the Guard's ranks. He also specifically linked their presumed support for Trump to their skin color and gender.
Cohen, who is the chairman of the House Judiciary's Subcommittee on the Constitution, Civil Rights and Civil Liberties, made the remarks during a CNN interview with host Jim Sciutto.
Biden Selects Mentally Ill Man for Health Official
On Tuesday, Joe Biden announced his selection for assistant secretary of health for the Department of Health and Human Services as none other than Dr. Rachel Levine.
Levine, who is actually Richard Levine, is an openly transgender person serving at the Secretary of Healthy for the Commonwealth of Pennsylvania.
Rev. Dyson: 'American Exceptionalism Is White Supremacy'
Reverend Dr. Michael Eric Dyson was giving a sermon at the National Cathedral on Sunday, and condemned America for its 'false claim' of exceptionalism, and declared that Americans are actually worshipping white supremacy.
The Vanderbilt professor of African American and Diaspora Studies said, "In the wake of this carnage, many citizens claimed...