After more than two years of dreadfully handling the COVID-19 pandemic, the CDC has announced they are going to overhaul their entire agency.
Per Bloomberg:
Director Rochelle Walensky began telling CDC's staff Wednesday that the changes are aimed at replacing the agency's insular, academic culture with one that's quicker to respond to emergencies. That will mean more rapidly turning research into health recommendations, working better with other parts of government and improving how the CDC communicates with the public. -Bloomberg
Breaking News: The head of the CDC said the agency had failed to respond quickly enough to the coronavirus pandemic and would overhaul its operations. An external review concluded that its public guidance about Covid was "confusing and overwhelming." https://t.co/XsZc2BDUUo

— The New York Times (@nytimes) August 17, 2022
"For 75 years, CDC and public health have been preparing for Covid-19, and in our big moment, our performance did not reliably meet expectations," Director Rochelle Walensky said. "I want us all to do better and it starts with CDC leading the way.  My goal is a new, public health action-oriented culture at CDC that emphasizes accountability, collaboration, communication and timeliness."
The announcement was made by Walensky Wednesday morning in a video message to the CDC staff. She informed the staff there is "significant work to do" to improve the nation's health defense.
"Prior to this pandemic, our infrastructure within the agency and around the country was too frail to tackle what we confronted with Covid-19," she said. "To be frank, we are responsible for some pretty dramatic, pretty public mistakes — from testing, to data, to communications."
Donald Trump Jr. made his feelings known with regards to the CDC:
Seems to me that the CDC owes your "conspiracy theorist" friend an apology! pic.twitter.com/02R1NPk1P0

— Donald Trump Jr. (@DonaldJTrumpJr) August 15, 2022
Trending Stories
Episcopal Church Comes Out With Stunning Stance on Sex Changes
Set featured imageThe Episcopal Church has come out with a stunning stance with regards to sex changes, even for children. The Episcopal Church is now supportive of sex changes "at all ages," calling it a matter of "religious liberty."
Resolution D066 calls for the Episcopal Church to "advocate for access to gender affirming care in all forms (social, medical, or any other) and at all ages." It also says that backing sex changes is "part of our Baptismal call to respect the dignity of every human being."
UFC President Dana White Gives His Thoughts on the Mar-a-Lago FBI Raid
UFC President Dana White has a long-time relationship with President Donald Trump that goes back to the early days of the UFC. Not only White but several other UFC fighters had Trump's back when it comes to the Mar-a-Lago raid by the FBI.
When White was asked about the raid during a press conference on Tuesday, it was clear whose side White was on.
Do You Stand With Trump or the FBI?
President Trump is under constant attack from the left. Take advantage of this special offer and show your support for President Trump.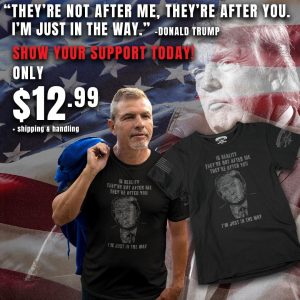 WAIT, WHAT!? Conservative Country Star John Rich Thanks Biden's FBI After Trump Raid
Conservative country music star John Rich reacted to the news of the FBI raid of former President Trump's Mar-a-Lago home with a "big thank you."
Rich, of the country music duo Big & Rich, followed that up with "see you in November!" at the end of his tweet regarding the raid.
Biden Gets Brought Back to Reality After His 'Zero Inflation' Claim
Once again on Wednesday, President Joe Biden showed how out of touch he is with reality when he made the claim there was "zero inflation in the month of July."
Before a bill signing ceremony, Biden appeared to go off script and brag about his failing economy.
Crooked Hillary Attempts to Profit from Mar-a-Lago FBI Raid
Hillary Clinton likes to give us the occasional reminder that she's still around and still awful. In her latest venture, Crooked Hillary attempts to profit from the FBI raid of Mar-a-Lago.
While many people are concerned about the FBI raiding Mar-a-Lago, those on the left are trying to exploit the event. Former Secretary of State Hillary Clinton attempted to use this moment to turn a profit.