Every year it there is a social battle on when to put up the Christmas tree and other Christmas decor. It is the happiest time of the year, so naturally most people want to kick off that time as early as possible.
One Texas family decided to go ahead and put up their outside decor since the wife is heavily pregnant, and did not want to wait until she couldn't physically do it.
"I feel kind of heavy, so the earlier we can put out the decorations, the better," Claudia Simonis said, "Because probably in two more weeks, I'm not going to be able to build all this."
However, upon finishing their Christmas decorations, which includes a snowman, reindeer, and a Santa chopper, the Simonis family was sent a letter from the neighborhood's homeowners association telling them to take it all back down until it was closer to the holiday season.
Bah humbug!
On Nov. 1, the Simonis home in Lakeside at Canyon Springs subdivision in San Antonio was decorated. Three days later, the family received a letter from Diamond Association Management & Consulting informing them of the violation of their rules.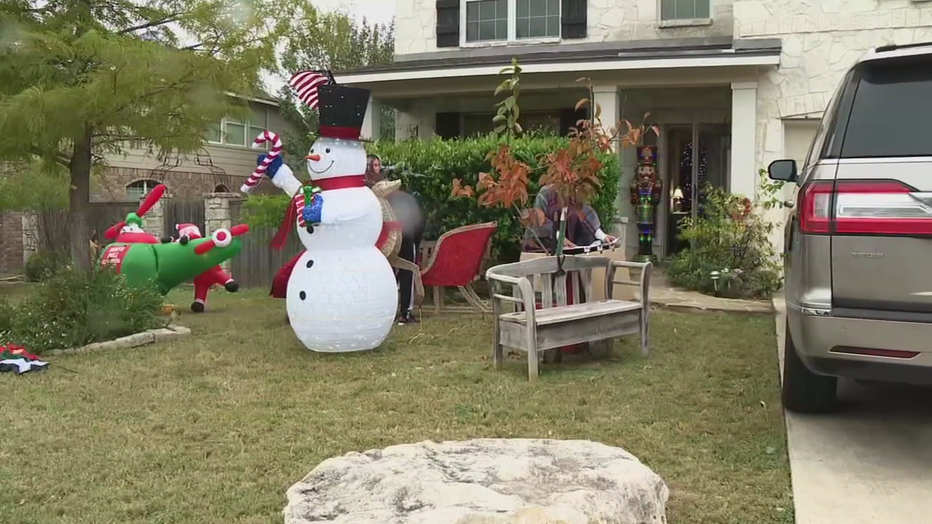 "Maintenance – Holiday Decorations Need To Be Removed," the notice read. Under a section labeled "inspector notes," DAMC asked the family to "please remove the snowman until closer to the holiday season."
"I just found it crazy,"  Claudia protested, "Especially that they didn't give us a time. Like, when is the right time to put it?"
However, they aren't the only ones fighting the HOA. Their neighbors are joining in on the objection as well.
"I don't think this should be an issue," neighbor Charles Minton said, "These are the holidays. This is what we do." In fact, he's put up his Christmas lawn decor already as well.
DAMC did not return Fox News' email for comment Wednesday night. Meanwhile, the Simonis family decorations are staying up, at least for now.
Claudia's husband, Nick Simonis said, "We're not going to do it [take them down]. It's the Christmas spirit. We're not going to be forced by the HOA to take it down."
I wouldn't take them down either! This is just ridiculous. The HOA are a bunch of grinches!