Farmers around the country are sounding the alarm to what's really going on. The Democratic Party is now reaping the harvest of the COVID-19 pandemic. As it put many of people out of work, and therefore disrupted our food supply, they gleefully watch and secretly cheer on the devastation because they think it means President Donald Trump won't be re-elected.
Watch for yourself:
Have you seen the photos surfacing? How about this one with the bodies of pigs piled up:
Or how about all these potatoes that are literally going to waste: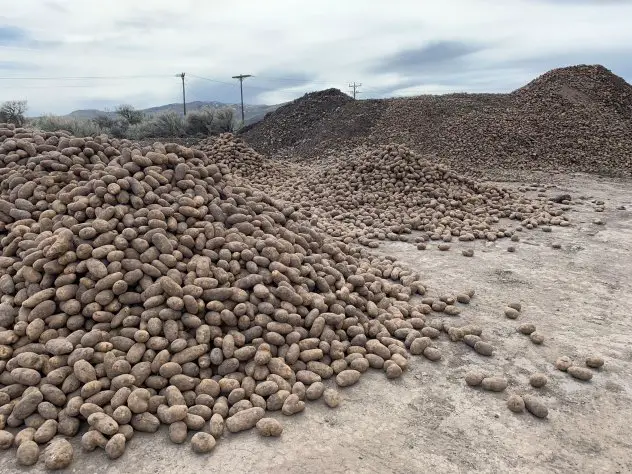 As Accuweather Channel reports:
Due to COVID-19 farmers across the nation are seeing an extreme surplus of crops. Here's how extra potatoes in Idaho are being put to good use.
Amid lockdowns and stay-at-home orders, businesses and industries are suffering from COVID-19 -- and potato farmers are no exception.
Despite a growing demand in grocery stores, potato prices have plummeted in the last few weeks due to social distancing guidelines and a lack of demand in restaurants and the food industry. Just weeks prior, the industry was looking at the best prices in recent memory and even projections for a summer shortage, The Associated Press reported.
The cost for a 50-pound carton of restaurant-grade potatoes in the Twin Falls and Burley district hovered between $22 and $23 on March 13 but had dropped to somewhere between $10 and $12 by April 16.
Some farmers in Idaho have such extreme surpluses that they are dumping potato crops, and dairy farms have begun feeding the potatoes to their cattle.
Last week, photos like the one [above], shared by Molly Page, a Hailey, Idaho, local, emerged on social media showing mountains of potatoes going to waste after being dumped by farmers.
This is utterly heartbreaking. Buy local if you can. And stop voting Democrat!
Trending Political News
Judge Rules Against Governor for Exceeding Authority and Violating Civil Rights with Coronavirus Orders
Our rights have been violated severely during this pandemic and the state governors and mayors seem to have no problem doing so. But action is being taken against them slowly but surely.
A judge in Illinois ruled against Governor J.B. Pritzker for exceeding his authority and violating civil rights of Illinois residents.
Renowned Scientist Is Positive That This Is How COVID-19 Was Started (VIDEO)
Over the last few months, many theories have emerged regarding the origins of the coronavirus. Where did it get started and how did it get out.
The majority of the world recognizes that the virus must have started in China, specifically Wuhan. However, China, Iran, and I believe even Russia is trying to put the blame on the United States saying that it's our fault. This of course is trash.
MUST WATCH: Insane UFO Footage Declassified and Released by the Pentagon
In a historic move, the Pentagon declassified and released multiple videos that show UFOs caught on camera by U.S. Navy pilots.
The videos were leaked out previously and the government acknowledged them, but now they're officially declassified.
Another Stimulus Package in the Works, Here's What to Expect
By now, most Americans have received their stimulus check from the government for $1,200 per adult with an additional $500 per child on top of that.
There are, however, some who have not received their money yet and still there are people who need far more than that to get by. I don't think it will be very much longer before we get another check or at least some sort of assistance.