Hollywood actor Terry Crews is guaranteed to put a smile on anyone's face with his comedic acting and contagious smile. However, not everything is fun and games with him. Crews has spoken out about a much more serious topic: pornography.
The talented actor and spokesman is known for his roles in many different shows, movies, and commercials such as: Old Spice videos, Everybody Hates Chris, Brooklyn Nine-Nine, White Chicks, The Longest Yard, Bridesmaids, and The Expendables. In addition to his love on screen, he also has a heart for real love as well.
Crews officially joined the #PornKillsLove movement, and he wants everyone to know the harmful effects it really does have on people and their relationships.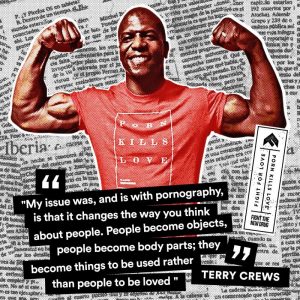 Fight the New Drug reports:
Crews first started being candid about his lifelong addiction to pornography in his book Manhood. He talked openly about how he was first addicted to porn at the age of 12 years old and how it continued all the way into adulthood, eventually deeply affecting his marriage to his wife, Rebecca.

After facing many years of addiction and a tumultuous marriage that almost ended in divorce due to his porn consumption, Crews was able to break free and go on to be the success that he is today. And now he wants other people to break free from porn, too.

Throughout the last years, Crews has been utilizing Facebook's live video feature to talk to his 8 million+ followers about his "dirty little secret," as he calls it. Crews has live streamed over 7 real talk sessions solely about his past struggle with pornography, how it affected his life, and how he broke free.
"This thing has become a problem, I think it's a worldwide problem," Crews said, "Pornography really messed up my life in a lot of ways. Some people deny it and say, 'Hey man you can't really be addicted to pornography, there's no way.' But I'll tell you something: if day turns into night and you're still watching, you probably got a problem. And that was me."
He speaks in his videos about how he struggled with porn and how it nearly ruined his life as well as his relationship with his wife.
"My wife was literally like, 'I don't know you anymore, I'm out of here,'" Crews continued. "This is a major, major problem, I literally had to go to rehab for it."
"My issue was, and is with pornography," he concluded, "Is that it changes the way you think about people. People become objects, people become body parts; they become things to be used rather than people to be loved."
Porn kills love.