President Joe Biden has taken an extremely aggressive stance against the non-vaccinated. Now he's threatening the non-vaccinated.
"If the unvaccinated get vaccinated, they will protect themselves and other unvaccinated people around them. If they do not, states with low vaccination rates may see those rates go up – may see this progress reversed," said Biden.
"Those who are not vaccinated will end up paying the price," Biden added.
Is this a threat? Without a doubt. Regardless of what our nutty president says, we have your solution for those of you who are not vaccinated and have no plan of doing so.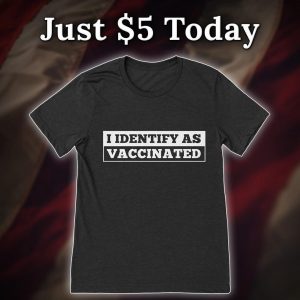 It wasn't long ago that Biden said you have two options: get vaccinated or keep wearing a mask.
The rule is now simple: get vaccinated or wear a mask until you do.

The choice is yours.

— President Biden (@POTUS) May 13, 2021
Now he has stepped up the pressure and is threatening those who have not been vaccinated.
Make a statement about the vaccination process and get your "I Identify as Vaccinated" T-Shirt for $5.