Republican Wyoming Rep. Liz Cheney lost her primary election by a landslide (37 points) and can now focus on her work with the January 6 Committee. Tucker Carlson brilliantly mocked the political downfall of Cheney like only he can.
Specifically, Carlson mocked her oath to defend "democracy" with regards to January 6th, but does not accept democracy when she loses a landslide election.
"Turns out democracy is like that boyfriend you've got in another city, you kind of talk him up a lot, but you don't really want him to show up, other people to meet him," Carlson said. "What happened to Liz Cheney last night? Democracy showed up in Wyoming. And Liz Cheney suffered the single biggest defeat in a primary by an incumbent this century. It turns out democracy is a cruel master, better be careful, it can whip around and bite you in the butt."
Carlson then moved on to CNN's Alisyn Camerota who warned that "election deniers" are a threat to democracy.
"So when voters totally reject a candidate that we in CNN like, when voters actually vote, which is, of course, the core ritual of democracy, it's the essence of democracy. When they do that, it's a threat to democracy," the Daily Caller co-founder said. "Of course, Liz Cheney agrees. Her losing definitively in Wyoming is the greatest threat to democracy since the Civil War and she should know because effectively, she's Abe Lincoln."
In a very out-of-touch concession speech, Cheney compared herself to former President Abraham Lincoln, who happened to lose House and Senate elections before becoming president.
"The great and original champion of our party, Abraham Lincoln, was defeated in elections for the Senate and the House before he won the most important election of all," Cheney said. "Lincoln ultimately prevailed, he saved our union, and he defined our obligation as Americans for all of history."
"I lost, Lincoln lost," Carlson fired back. "Me, me, me, me, I'm Lincoln. Another sad, middle-aged rich lady narcissism trip. For sure."
Tucker Carlson Mocks "Narcissist" Liz Cheney
Cheney suffered the single biggest defeat by an incumbent in a primary this century. No one is going to look back in the history books and confuse her with Abraham Lincoln.
Trending Stories
Episcopal Church Comes Out With Stunning Stance on Sex Changes
Set featured imageThe Episcopal Church has come out with a stunning stance with regards to sex changes, even for children. The Episcopal Church is now supportive of sex changes "at all ages," calling it a matter of "religious liberty."
Resolution D066 calls for the Episcopal Church to "advocate for access to gender affirming care in all forms (social, medical, or any other) and at all ages." It also says that backing sex changes is "part of our Baptismal call to respect the dignity of every human being."
UFC President Dana White Gives His Thoughts on the Mar-a-Lago FBI Raid
UFC President Dana White has a long-time relationship with President Donald Trump that goes back to the early days of the UFC. Not only White but several other UFC fighters had Trump's back when it comes to the Mar-a-Lago raid by the FBI.
When White was asked about the raid during a press conference on Tuesday, it was clear whose side White was on.
Do You Stand With Trump or the FBI?
President Trump is under constant attack from the left. Take advantage of this special offer and show your support for President Trump.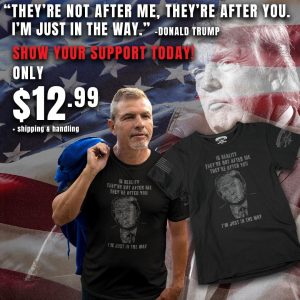 WAIT, WHAT!? Conservative Country Star John Rich Thanks Biden's FBI After Trump Raid
Conservative country music star John Rich reacted to the news of the FBI raid of former President Trump's Mar-a-Lago home with a "big thank you."
Rich, of the country music duo Big & Rich, followed that up with "see you in November!" at the end of his tweet regarding the raid.
Biden Gets Brought Back to Reality After His 'Zero Inflation' Claim
Once again on Wednesday, President Joe Biden showed how out of touch he is with reality when he made the claim there was "zero inflation in the month of July."
Before a bill signing ceremony, Biden appeared to go off script and brag about his failing economy.
Crooked Hillary Attempts to Profit from Mar-a-Lago FBI Raid
Hillary Clinton likes to give us the occasional reminder that she's still around and still awful. In her latest venture, Crooked Hillary attempts to profit from the FBI raid of Mar-a-Lago.
While many people are concerned about the FBI raiding Mar-a-Lago, those on the left are trying to exploit the event. Former Secretary of State Hillary Clinton attempted to use this moment to turn a profit.