The U.S. has been selling communist China the rope to hang us with while allowing china to weaponize capitalism to strengthen their tyrannical government. Political cartoon by A.F. Branco ©2020.
A.F. Branco has taken his two greatest passions, (art and politics) and translated them into the cartoons that have been popular all over the country, in various news outlets including "Fox News", MSNBC, CBS, ABC and "The Washington Post." He has been recognized by such personalities as Dinesh D'Souza, James Woods, Sarah Palin, Larry Elder, Lars Larson, Rush Limbaugh, and has had his toons tweeted by President Trump.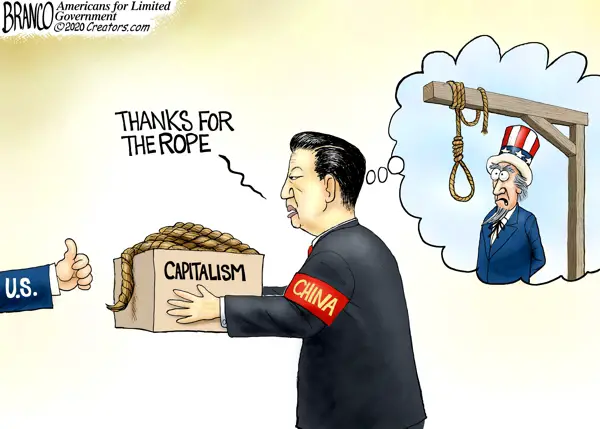 Trending Political News
James Woods Destroys Delusional Liberal Who Thinks Hillary Could Have Handled Coronavirus Better
Well, the mainstream media has effectively brainwashed liberals into thinking that President Trump has just been doing a horrendous job in dealing with the coronavirus.
He stepped up to ban travel from China when Democrats were against it. Even Nancy Pelosi was out in Chinatown urging people to come on out because it was perfectly safe.
BOMBSHELL: Latest DOJ Documents Reveal Obama White House Was Running the Operation Against Flynn
A recent document drop by the Department of Justice regarding the framing of General Michael Flynn has brought some much-needed attention to the Obama administration as the documents reveal who it was that was running the whole operation.
It was none other than the White House itself that was calling the shots.
Florida Man Gets Even With Trump Hating Boat Club In The EPIC Fashion (VIDEO)
There's no secret about it. Liberals hate people with opposing viewpoints than their own. If you disagree with them, then you're just a racist, xenophobic, transphobic, homophobic, blah blah blah...you know the routine.
Even when it comes to being supportive of the President, you can't even do that without being ridiculed. You saw what happened when President Trump took out a leading terrorist. The liberals got angry and honored him like he was some religious scholar. This was an evil man who is responsible for killing hundreds of men and women in our military.
MUST WATCH: NFL Super Bowl Champion Dramatic Arrest Caught On Video
Bashaud Breeland from the NFL's Kansas City Chiefs was arrested in South Carolina at a gas station and it almost ended very badly.
Breeland was being very uncooperative and forced the police officer to pull his weapon at one point after he continually tried to get back in his vehicle. This was a very dumb move.
Candace Owens Suspended from Twitter for Message to 'Dictator' Whitmer
On Friday conservative analyst Candace Owens was suspended from Twitter for a tweet that attacked "dictator" Michigan Governor Gretchen Whitmer.
"Apparently [Whitmer] believes she is a duly elected dictator of a socialist country," Owens tweeted, but it has since been removed. "The people of Michigan need to stand up to her. Open your businesses. Go to work. The police think she's crazy too. They are not going to arrest 10,000,000 people for going to work."
President Trump Says White House Will Release 'Conclusive' Evidence Coronavirus Originated in Wuhan Lab
During President Trump's Sunday night town hall on Fox News, Trump suggested his administration will soon release "conclusive" evidence showing the coronavirus originated out of China's Wuhan Institute of Virology.
"I don't think there is any question about it," Trump replied when he was asked if China is to blame for the spread of the pandemic. He then told host Brett Baier that his administration  "will be giving a very strong report on what we think happened, and I think it will be very conclusive."