I don't drink beer, but if I did....no it wouldn't be Dos Equis. It would be a beer from Tactical Ops Brewing in Fresno, California!
Since the death of Jeffrey Epstein (which is being covered up as a suicide....but we aren't buying it) the internet has been keeping him alive through posts and memes that conveniently say something along the lines of, "Epstein didn't kill himself."
The brewing company took it a step further and printed a message on the bottom of their cans: "2019/11/06 EPSTEIN DIDNT KILL HIMSELF."
Tactical Ops Brewing manager, Carlos Tovar, said that he came up with the idea about a week ago considering how the Epstein memes have taken the internet by storm. Great marketing tactic, and awesome statement.
The brewery will only be releasing one batch of the cans, about 54 packs worth.

The message can be found printed underneath blue cans of their Basher Oatmeal Stout.

The cans are already available for purchase, you can pick up a pack after 4 p.m., which is when the business opens for the day.
The left and right have united on the internet in agreement that Epstein was murdered! Here are some of my favorite Epstein memes: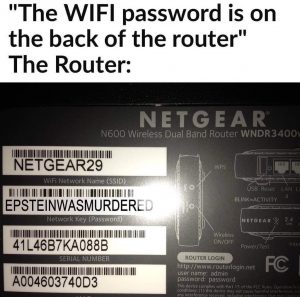 And if you check out Twitter, the posts are endless!
Some of my tips for #QBConnect! ?‍♀️

1) Drink lots fluids but not too much you have to constantly pee
2) BYO Protein
3) Wear flats don't be a hero
4) Epstein didn't commit suicide
5) At the bar grab two drinks per trip
6) Fanny packs are great to carry accessories

— Lorilyn Wilson (@LorilynWilson) November 4, 2019
"With ups and with downs, the world is your slide. Jeffery Epstein didn't commit suicide" https://t.co/oFpaO7PlHw

— The Real Boston George (@Mike08348594) October 31, 2019
Just a reminder Epstein was murdered

— Ellison Schrage (@EllieSchrage) November 2, 2019
disney plus with hulu? more like peepee plus with poopoo. jeffrey epstein was murdered in his jail cell

— viking (@notviking) November 3, 2019
the government "finding out" epstein was murdered https://t.co/HTMLIHe9DV

— emi (@drunkbitchbaby1) November 7, 2019