Could you imagine going to a town meeting and the mayor suspending the Pledge of Allegiance? That's what happened in Silverton, Colorado! However, attendees did not care what the mayor had to say. They recited the pledge anyway. This is still the land of the free, after all.
KDVR reports that Mayor Shane Fuhrman announced last week that the pledge would be suspended due to "direct and indirect threats" that were made "in and out of public meetings and general divisiveness and issues created in our community."
Silverton, CO's Mayor unilaterally banned the Pledge of Allegiance at city meetings.

It's hard to put into words what kind of anti-American disgrace this is.

Mayor Fuhrman should resign and purchase a one-way ticket to China where he won't have worry about hearing the pledge! pic.twitter.com/tjzU1cnOv0

— Lauren Boebert (@laurenboebert) June 18, 2021
Fox News reports:
One of the trustees challenged him and called out his "unilateral" decision. He downplayed her concerns and told her to find out where it is written that says he cannot make such a ruling, at which point he would "welcome that discussion at our next meeting."
Fuhrman did not immediately respond to an email from Fox News or our affiliate.
A CBS Denver aired a video of the meeting that showed attendees stand up and recite the pledge, which prompted Fuhrman to say they were out of order.
"To tell members of the public they are not allowed to say the Pledge of Allegiance during public comment and threaten to have them removed that it was one strike in you're out policy violates every single one of their first amendment rights," declared trustee Molly Barela.
I agree. This is the land of the free and the home of the brave. How dare he try to tell Americans that they cannot honor that absolute blessing at a town meeting.
If you still believe that we are the land of the free, then get your $5 Freedom Friday shirt today!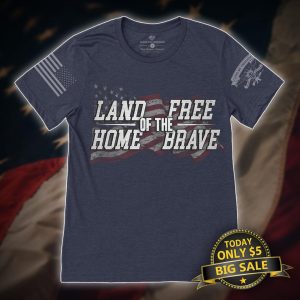 In Honor of Independence Day, We'll Be Donating A Meal To a Homeless Veteran With Every T-Shirt Ordered Today!
Trending Political News
Whoops! Biden Suggests All Latinos are Deportable, Illegal (VIDEO)
Someone needs to take the mic from President Joe Biden....no, seriously. He should not be speaking to the public, let alone running a country. The man needs to be sitting in a nursing home with 24/7 supervision!
On Thursday, the leader of the free world suggested that all Latino Americans are illegal immigrants and therefore deportable.
Report: Biden Refuses to Sign Infrastructure Bill Without More Taxes
Big oof! On Thursday, President Joe Biden declared that he will not sign a bipartisan infrastructure bill unless it also contained a 'tandem" bill for more taxes.
Isn't that like the least American thing possible? A president attempting to force more taxes on the American people?? We've thrown tea into the harbor for less....
AR Gov. Hutchinson: New Mask Mandates, Shutdowns 'Could Be on the Table'
On Sunday, Arkansas Governor Asa Hutchinson told CBS's "Face the Nation" that new shutdowns and mask mandates could be on the table if COVID rates continue to rise in his state.
Partial transcript as follows:
Holy Communism Batman! Emails Show Biden Campaign Bullied FB into Censoring Trump Campaign, Supporters
Numerous emails seen by CNN show that the Biden campaign bullied and pressured Facebook to censor posts coming from the Trump campaign and Trump supporters about the integrity of the 2020 presidential election.
Can you say communism?
'Activist Athlete' Gwen Berry Turns Away from Flag on During Anthem
Olympic track and field athlete Gwen Berry chose to turn away from the American flag during the National Anthem on Saturday while standing on the podium after receiving a bronze medal in the hammer throw.
Breitbart explains:
Surprise! Biden Bombs Syria....Again
For the second time in his short presidency, Joe Biden ordered air strikes in Syria on Sunday.
The Pentagon released a statement that Biden ordered air strikes on two targets in Syria, as well as a site in Iraq after militias launched drones against United States forces in the region.