A couple was arrested and charged with public indecency when they were caught having sex on the Ferris Wheel ride at the Cedar Point, an Ohio amusement park.
You probably figured this was a couple of horny teenagers. Wrong. Per Fox 11, authorities were alerted to the incident when several bystanders, including two juveniles, witnessed David Davis and Heather Johnston, both 32, allegedly engaging in sexual acts while riding the 145-foot tall Giant Wheel ride in the park.
According to police, when the two were initially asked about their sexual conquest they denied it. They used the insane excuse that Heather dropped her cigarettes and while she was looking for them David joined her in helping.
David, you dirty dog.
Witnesses pointed out that was certainly not the case. The police report states that the witnesses saw the couple naked and having sex above them. The report also stated they were going at it causing the Ferris Wheel gondola to shake due to "both the male and female moving back and forth."
"The group said that the couple knew that they were watching and started laughing and continued their behavior," the police report continued. The girls said they clearly saw the man's genitals and one of them told the police that the experience "was very traumatizing for her," per a report from PennLive.
A man and woman were arrested at Cedar Point on Sunday after four witnesses told Sandusky police they saw the couple engaged in sexual intercourse aboard one of the rides. https://t.co/26CmGDhQk0 #10TV

— 10TV (@10TV) August 16, 2022
Eventually, the couple admitted they were, in fact, having sex on the ride.
They appeared Monday in Sandusky Municipal Court and were able to post bond. Public indecency charges are first-degree misdemeanors.
It should be noted that this wasn't any Ferris Wheel. According to the Cedar Point website, this is "one of the tallest Ferris wheels in the United States."
"Riders are taken up and above the Lake Erie shoreline with views as far as the eyes will take them. While those seeking out the ultimate thrill are next door at Wicked Twister, this ride has brought riders back for more since its opening in 1972," the description states.
"Travel 145 feet in the air, gripping at the sides of one of 36 cabins, each filled with travelers awed by the sights and sounds that only this vantage point can provide. You'll be able to see the whole park, and the whole park will be able to see you, especially at night when Giant Wheel lights up. You can't miss the illumination along the skyline. After all, it has more lights than any other ride at the park. See you up there," the description reads.
The description also makes the important point that all riders should keep their seatbelt buckles for safety purposes.
Trending Stories
Episcopal Church Comes Out With Stunning Stance on Sex Changes
Set featured imageThe Episcopal Church has come out with a stunning stance with regards to sex changes, even for children. The Episcopal Church is now supportive of sex changes "at all ages," calling it a matter of "religious liberty."
Resolution D066 calls for the Episcopal Church to "advocate for access to gender affirming care in all forms (social, medical, or any other) and at all ages." It also says that backing sex changes is "part of our Baptismal call to respect the dignity of every human being."
UFC President Dana White Gives His Thoughts on the Mar-a-Lago FBI Raid
UFC President Dana White has a long-time relationship with President Donald Trump that goes back to the early days of the UFC. Not only White but several other UFC fighters had Trump's back when it comes to the Mar-a-Lago raid by the FBI.
When White was asked about the raid during a press conference on Tuesday, it was clear whose side White was on.
Do You Stand With Trump or the FBI?
President Trump is under constant attack from the left. Take advantage of this special offer and show your support for President Trump.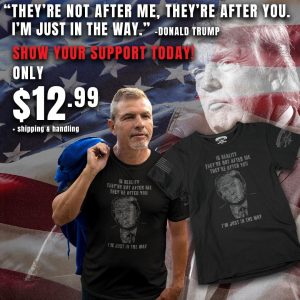 WAIT, WHAT!? Conservative Country Star John Rich Thanks Biden's FBI After Trump Raid
Conservative country music star John Rich reacted to the news of the FBI raid of former President Trump's Mar-a-Lago home with a "big thank you."
Rich, of the country music duo Big & Rich, followed that up with "see you in November!" at the end of his tweet regarding the raid.
Biden Gets Brought Back to Reality After His 'Zero Inflation' Claim
Once again on Wednesday, President Joe Biden showed how out of touch he is with reality when he made the claim there was "zero inflation in the month of July."
Before a bill signing ceremony, Biden appeared to go off script and brag about his failing economy.
Crooked Hillary Attempts to Profit from Mar-a-Lago FBI Raid
Hillary Clinton likes to give us the occasional reminder that she's still around and still awful. In her latest venture, Crooked Hillary attempts to profit from the FBI raid of Mar-a-Lago.
While many people are concerned about the FBI raiding Mar-a-Lago, those on the left are trying to exploit the event. Former Secretary of State Hillary Clinton attempted to use this moment to turn a profit.