PETA was up to their usual antics, but this time a family-owned restaurant fought back.
The genesis of the situation can be traced back to when the People for the Ethical Treatment of Animals (PETA) made the decision to launch an offensive against a seafood restaurant in Baltimore. They accomplished this by erecting a large billboard that bore the inscription "I never lent you my flesh. Go Vegan." The wording was cleverly crafted to allude to the Christian season of Lent, and the message was reinforced by the inclusion of a crucifix and a fish image.
Jimmy's Famous Seafood wasn't having their nonsense.
"It's not a laughing matter to come after somebody's livelihoods," Jimmy's Famous Seafood owners John and Tony Minadakis told Fox and Friends this week. "They made it personal when they went after a small family-owned business."
Despite acknowledging that they were facing a formidable adversary in PETA, the restaurant proprietors stood firm in their stance. They noted that the activist organization possessed "unlimited cash," yet refused to be deterred by this fact.
"We were in fight mode right away," Tony said.
Instead of backing down, John and Tony fired back with two billboards of their own.
The signs read "They died to be enjoyed, Savor the sacrifice" and "It'd be a sin to waste em," along with images of crabs on both of them.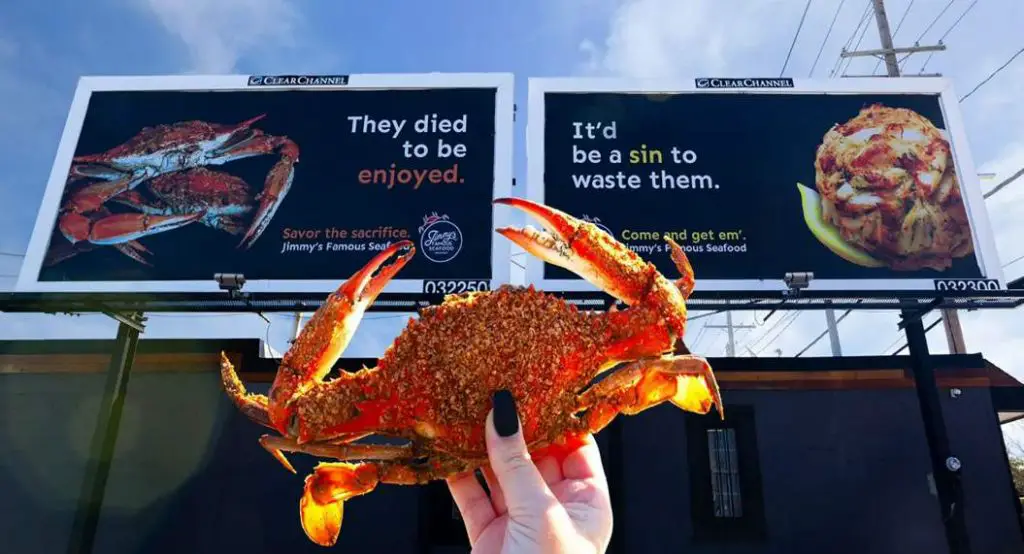 Additionally, they commenced the sale of t-shirts that parodied PETA, featuring the phrase "People Eating Tasty Animals."
Meet Gus...

Gus supports PETA (People Eating Tasty Animals)!

Be like Gus - https://t.co/6HjQxskq3N!

Proceeds benefit @SGAR_MD! pic.twitter.com/rSf5PcXrD9

— Jimmy's Famous Seafood (@JimmysSeafood) March 16, 2023
Jimmy's Famous Seafood was also aggrieved by PETA's mockery of the religious observance of Lent. "To go after religion was a low blow," said John. "Some things should be off limits in the marketing world, and religion is definitely one of those."
Trending Political News
White House Press Secretary Slips Up, Calls President Biden Wrong Name in Telling Mistake
During a press briefing on Thursday, the White House press secretary, Karine Jean-Pierre, made a mistake by accidentally referring to President Biden as "President Obama."
As Jean-Pierre was making announcements at the beginning of the briefing, her slip of the tongue caused a burst of laughter and surprise among the press corps.
Chick-fil-A Invents New Sandwich NO ONE is Going to Buy
Despite my usual preference for ordering the same meal at Chick-fil-A, the chain's latest creation has piqued my interest. The fast-food restaurant has announced that it will trial a "Cauliflower Sandwich" at select locations in various markets.
Chick-fil-A, known for its focus on chicken, is promoting the new sandwich as "plant-forward." The restaurant says that the sandwich's creation was the result of a multi-year endeavor, with the company's chefs working to develop and refine the recipe.
'Biden Showered With His Daughter': White House Com Team Under Fire After Sharing Tweet
On Wednesday, Andrew Bates, the White House deputy press secretary, faced criticism for sharing a video from a social media account that ridiculed President Joe Biden.
Bates distributed a video of White House press secretary Karine Jean-Pierre that had previously been uploaded by Greg Price, a former Daily Caller social media coordinator who now serves as senior digital strategist at XStrategies LLC. Prior to sharing the clip, Price had briefly changed his account username to "Joe Biden Showered With His Daughter," resulting in the label appearing beneath Bates' post.
Senator Joe Manchin Makes Major Announcement About His Political Future
On Wednesday, Senator Joe Manchin, a Democrat from West Virginia, revealed that he has made a decision regarding his political aspirations for the 2024 election cycle and has ruled out a presidential run.
"I'm not running for President of the United States," Manchin said to MetroNews during a radio interview broadcast from the State Capitol of West Virginia.
Megyn Kelly Explains Why Kim Kardashian Was Booed at the Rams Game
Megyn Kelly went nuclear while describing why reality star Kim Kardashian was booed at the Los Angeles Rams game on Sunday.
During her podcast "The Megyn Kelly Show," she was speaking with political commentator Andrew Sullivan. The two discussed how Sullivan's piece on the passing of Queen Elizabeth II. Kelly mentioned how Sullivan's piece talked about how narcissism is everywhere and how people like Kardashian were once revered as a "false god."
Joy Behar Gives Crazy Reason For Why Train Disaster Happened in East Palestine
On Thursday, Joy Behar insinuated that the inhabitants of East Palestine were receiving appropriate consequences, or at least the ones they had selected, in light of the catastrophic train derailment that took place approximately three weeks prior.
Following the derailment and crash, which involved multiple cars carrying hazardous materials, residents have expressed concern about the possibility of chemicals permeating the soil and fumes from ensuing fires contaminating the air and water supply for an extended period of time, potentially lasting several months or years.