During Wednesday night's episode, a new wave of "Wheel of Fortune" youngsters briefly stepped into the spotlight, temporarily taking over the beloved game show.
On the official "Wheel of Fortune" social media page, Maggie Sajak, daughter of Pat Sajak, conducted an interview segment titled "The Spin with Maggie Sajak" featuring Nikko, son of Vanna White.
In this heartwarming encounter, the two shared nostalgic anecdotes about their shared experience of growing up as the children of the iconic "Wheel of Fortune" hosts while constantly being in the public eye.
"We have known each other my whole life," Maggie began.
"It's been a long time," Nikko replied.
As Maggie reminisced about their time together, she fondly recalled some humorous moments shared between them. One particularly memorable instance involved Nikko, and Maggie amusingly confessed that her mother unearthed a video capturing that hilarious moment.
Within the video, Maggie's mother playfully prompts Nikko to bestow a kiss on her daughter's cheek. However, much to everyone's amusement, she playfully surprises him by lightly tapping his face instead.
"I would like to apologize," Maggie laughed.
"That's the reason why I never tried to kiss you on the cheek again," Nikko said to her.
"Gosh, we really dodged a bullet there," she wisecracked.
 

View this post on Instagram

 
This interaction took place following Maggie's appearance as a substitute for White on an episode of "Celebrity Wheel of Fortune."
"Got to see mom [play] against some of the smartest people in the world, which was really interesting," he said.
"She put in the fight … she did a great job," Nikko said.
Additionally, he extended his congratulations to Maggie, praising her for doing an "amazing" job while standing in for his mother.
"She taught me well," Maggie said.
Later in the video, White joined Maggie and Nikko, playfully suggesting that her son should give Sajak's daughter a friendly peck on the cheek.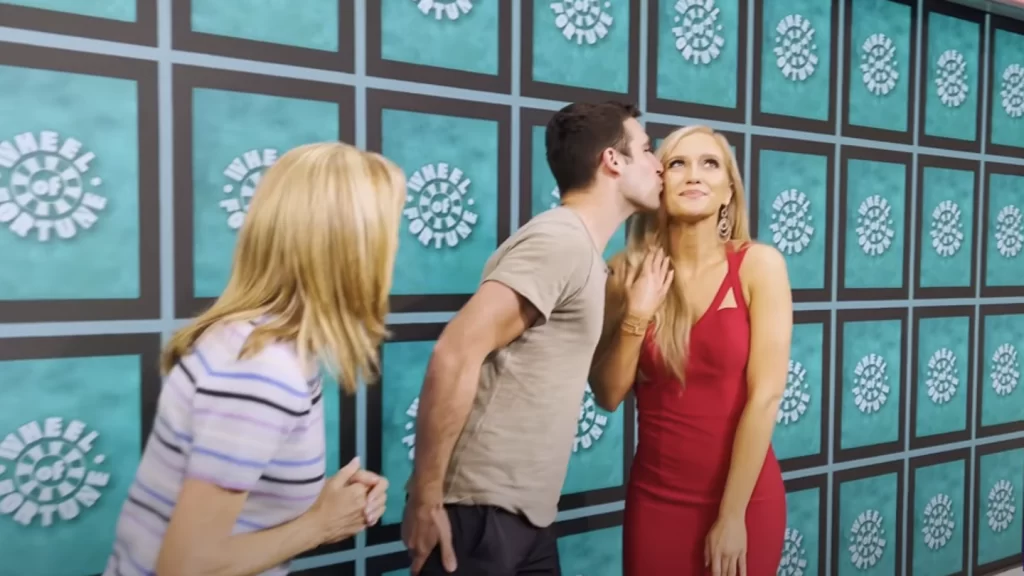 Following Nikko's affectionate gesture of planting a peck on Maggie's cheek, White responded with a lighthearted remark, exclaiming, "We've come full circle now!"
"All my PTSD is over with … the whole slapping on the face, I feel a lot better now," Nikko joked.
Fans of "Wheel of Fortune" delighted in witnessing the warm and friendly interaction between Maggie and Nikko, with one comment expressing, "They would make such a stunning couple!"
Trending Political News
'I Have Boobs': Fox News Anchor Rips Transgender Women Promoting Sports Bras
Julie Banderas, the anchor for Fox News, was very direct in her comments about Nike's collaboration with Dylan Mulvaney, a transgender activist who identifies as a woman but is biologically male.
Brian Kilmeade from Fox News played sponsor clips featuring Mulvaney for various companies including Nike and Bud Lite, and questioned why these companies would think that such marketing would be effective.
Former Child Star Found 'Completely Naked' in the Streets of Los Angeles
Fox News Digital has reported that former child star Amanda Bynes was discovered completely nude in California, and as a result, the Los Angeles Police Department (LAPD) has placed her on a psychiatric hold.
Awkward Video of 'Kindergartner' Gavin Newsom Goes Viral
The video of California Gov. Gavin Newsom's recent visit to the New College of Florida, which appears to be uncomfortable, is being shared all over social media.
On his visit to Sarasota, Governor Gavin Newsom's conduct in the video has attracted social media attention. The video features the governor applauding without any sound as faculty members and students perform a religious song titled "He's Got The Whole World In His Hands" at the liberal arts college. Some of his critics noted the uncomfortable nature of the incident.
Yankees Bat Boy Goes Viral for Breaking One of Team's Longstanding Rules
Perhaps for the very first time, a person sporting lengthy hair was seen donning an authentic New York Yankees uniform while on the field.
Since the 1970s, when George Steinbrenner acquired the team, the Yankees have maintained a policy of prohibiting facial hair and hair that extends "below the collar." This code was famously adhered to by players such as Randy Johnson and Johnny Damon, who both shed their magnificent manes upon joining the Bronx Bombers.
Former Disney Star Rips Hollywood for Encouraging 'The Worst Qualities'
Cole Sprouse gained fame as a child star, appearing in popular movies such as "Big Daddy," TV shows like "Friends," and the Disney Channel hit "The Suite Life of Zack and Cody," which he co-starred in with his twin brother, Dylan.
Joe Rogan Gives Surprising Take on Bud Light Controversy
During one of the episodes of his show this week, podcast icon Joe Rogan supported Anheuser-Busch as the company faces the consequences of a paid marketing campaign with a transgender influencer who is highly contentious.