Arizona Governor Doug Ducey announced Friday that his state has taken action to fill in the gaps in the border wall.  Ducey said that "Arizona has has enough."
"We can't wait any longer. The Biden administration's lack of urgency on border security is a dereliction of duty. For the last two years, Arizona has made every attempt to work with Washington to address the crisis on our border. Time and time again we've stepped in to clean up their mess. Arizonans can't wait any longer for the federal government to deliver on their delayed promises."
?

We issued an Executive Order directing the Arizona Department of Emergency and Military Affairs to immediately fill the gaps in the Yuma border wall. pic.twitter.com/ZElkH0x39X

— Doug Ducey (@DougDucey) August 12, 2022
Ducey also pointed out the strain that the lack of border security is putting on those who live in the vicinity.
"Our border communities are being used as the entryway to the United States, overwhelming law enforcement, hospitals, nonprofits and residents," Governor Ducey said.
The Biden administration has done very little when it comes to helping secure Arizona's southern border.
Ducey said, "It's our responsibility to protect our citizens and law enforcement from this unprecedented crisis. With the resources and manpower in the right places, our Border Patrol and law enforcement will be better equipped to do their jobs well and prevent cartels from exploiting our communities. That's exactly what our barrier mission will do."
Ducey has since taken to Twitter to show off the progress of the border wall near Yuma.
The thousand-foot gap in the border wall near Yuma is closed.

BEFORE: AFTER: pic.twitter.com/b32XQHXFMN

— Doug Ducey (@DougDucey) August 15, 2022
Trending Stories
Episcopal Church Comes Out With Stunning Stance on Sex Changes
Set featured imageThe Episcopal Church has come out with a stunning stance with regards to sex changes, even for children. The Episcopal Church is now supportive of sex changes "at all ages," calling it a matter of "religious liberty."
Resolution D066 calls for the Episcopal Church to "advocate for access to gender affirming care in all forms (social, medical, or any other) and at all ages." It also says that backing sex changes is "part of our Baptismal call to respect the dignity of every human being."
UFC President Dana White Gives His Thoughts on the Mar-a-Lago FBI Raid
UFC President Dana White has a long-time relationship with President Donald Trump that goes back to the early days of the UFC. Not only White but several other UFC fighters had Trump's back when it comes to the Mar-a-Lago raid by the FBI.
When White was asked about the raid during a press conference on Tuesday, it was clear whose side White was on.
Do You Stand With Trump or the FBI?
President Trump is under constant attack from the left. Take advantage of this special offer and show your support for President Trump.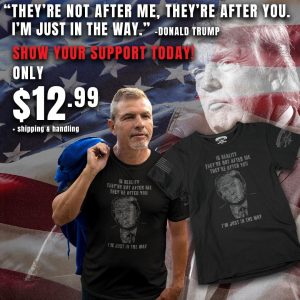 WAIT, WHAT!? Conservative Country Star John Rich Thanks Biden's FBI After Trump Raid
Conservative country music star John Rich reacted to the news of the FBI raid of former President Trump's Mar-a-Lago home with a "big thank you."
Rich, of the country music duo Big & Rich, followed that up with "see you in November!" at the end of his tweet regarding the raid.
Biden Gets Brought Back to Reality After His 'Zero Inflation' Claim
Once again on Wednesday, President Joe Biden showed how out of touch he is with reality when he made the claim there was "zero inflation in the month of July."
Before a bill signing ceremony, Biden appeared to go off script and brag about his failing economy.
Crooked Hillary Attempts to Profit from Mar-a-Lago FBI Raid
Hillary Clinton likes to give us the occasional reminder that she's still around and still awful. In her latest venture, Crooked Hillary attempts to profit from the FBI raid of Mar-a-Lago.
While many people are concerned about the FBI raiding Mar-a-Lago, those on the left are trying to exploit the event. Former Secretary of State Hillary Clinton attempted to use this moment to turn a profit.