A California man had been feeling ill over the course of a month and became suspicious enough to set up cameras to make sure his wife wasn't trying to poison him. The man was able to capture video footage of her attempting to poison and turned it over to the police and she was arrested.
She was booked with a $30,000 bond.
The man suffered "significant internal injuries" but is expected to make a full recovery, according to police.
Steven Hittelman, the attorney of the victim, said that he first started noticing a chemical taste in his drinks back in March. Eventually, symptoms started to pop up and he was disagnosed by doctors with esophagitis, stomach ulcers and gastritis.
In one of the videos the woman can be seen removing a plastic wrap covering from her husband's drink, pours in some Draino and then puts the plastic wrap covering back in its place.
"After the first video of finding out she was poisoning him, he took his morning tea and put Saran wrap over it," Hittelman said. " She still peeled it off and put the Drano in it."
Check it out:
The suspect's attorney could not be reached for questions but did tell the Mercury News his client, "vehemently and unequivocally denies ever attempting to poison her husband or anyone else. As a well-respected physician her goal as always been to help people and never to harm them."
Trending Stories
Episcopal Church Comes Out With Stunning Stance on Sex Changes
Set featured imageThe Episcopal Church has come out with a stunning stance with regards to sex changes, even for children. The Episcopal Church is now supportive of sex changes "at all ages," calling it a matter of "religious liberty."
Resolution D066 calls for the Episcopal Church to "advocate for access to gender affirming care in all forms (social, medical, or any other) and at all ages." It also says that backing sex changes is "part of our Baptismal call to respect the dignity of every human being."
UFC President Dana White Gives His Thoughts on the Mar-a-Lago FBI Raid
UFC President Dana White has a long-time relationship with President Donald Trump that goes back to the early days of the UFC. Not only White but several other UFC fighters had Trump's back when it comes to the Mar-a-Lago raid by the FBI.
When White was asked about the raid during a press conference on Tuesday, it was clear whose side White was on.
Do You Stand With Trump or the FBI?
President Trump is under constant attack from the left. Take advantage of this special offer and show your support for President Trump.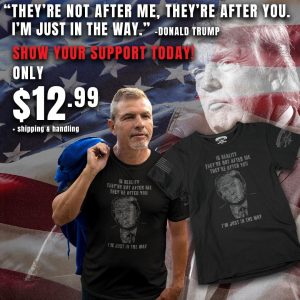 WAIT, WHAT!? Conservative Country Star John Rich Thanks Biden's FBI After Trump Raid
Conservative country music star John Rich reacted to the news of the FBI raid of former President Trump's Mar-a-Lago home with a "big thank you."
Rich, of the country music duo Big & Rich, followed that up with "see you in November!" at the end of his tweet regarding the raid.
Biden Gets Brought Back to Reality After His 'Zero Inflation' Claim
Once again on Wednesday, President Joe Biden showed how out of touch he is with reality when he made the claim there was "zero inflation in the month of July."
Before a bill signing ceremony, Biden appeared to go off script and brag about his failing economy.
Crooked Hillary Attempts to Profit from Mar-a-Lago FBI Raid
Hillary Clinton likes to give us the occasional reminder that she's still around and still awful. In her latest venture, Crooked Hillary attempts to profit from the FBI raid of Mar-a-Lago.
While many people are concerned about the FBI raiding Mar-a-Lago, those on the left are trying to exploit the event. Former Secretary of State Hillary Clinton attempted to use this moment to turn a profit.